Data. Data. Data. It is all about data. According to leading reports on Business Intelligence, the organizations which use Business Intelligence and Analytics applications are most likely to have better business outcomes.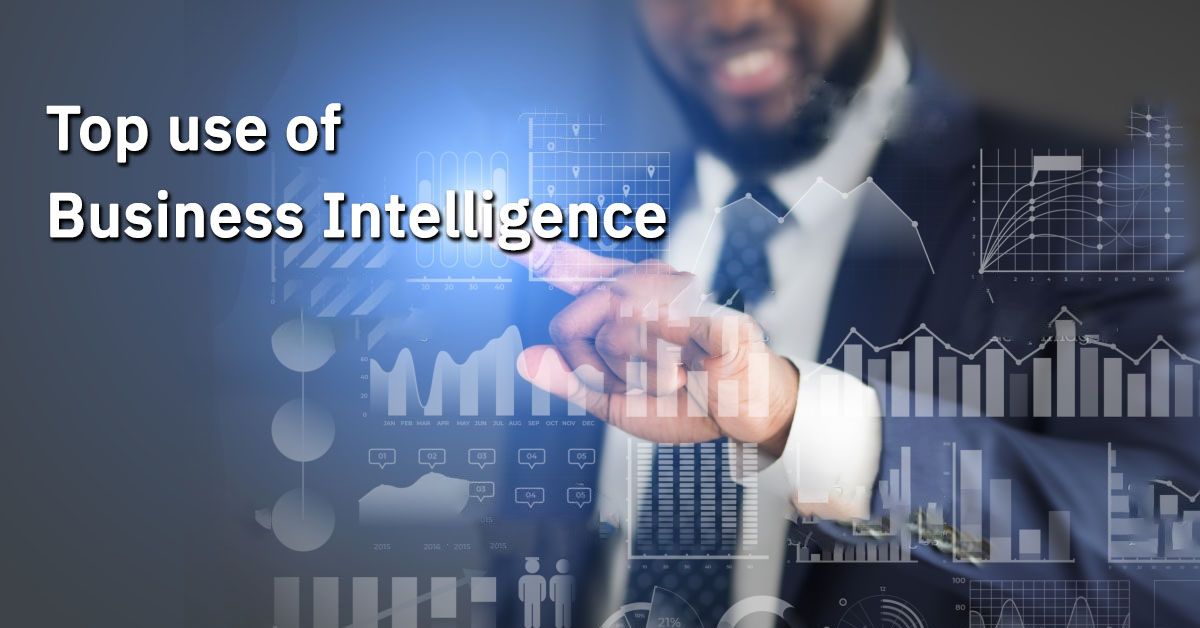 Benefits of using business intelligence in your organization
The aforementioned statistics gives several insights to take future course of actions. It guides you towards key business data. With the right tools, processes, practices and technology, BI can convert raw data into meaningful information which we can use in making strategic decisions.
Numbers don't lie. Nowadays, it seems organizations are starting to realise the potential of data. Data is the nucleus of today's organizational structural environment, but, it all depends on the way data is used to make decisions at present. On a broad perspective, business intelligence can gather, integrate, organize and analyse raw data into a systematic manner. Put it in simple words, BI can bring value to almost every business process, thereby, creating a comprehensive view and helping teams to make the most out of their data investments.
Using data visualization, teams across various departments can utilize data graphics and dashboards to understand data points related mostly to their operations. This helps in giving more access for entire organization to use BI for enhancing their operations.
Here are few benefits of integrating business intelligence into your business strategy:
Improve Sales Margins: Using BI lets you track sales data of a customer. This can reveal a lot about your customer trends, identify where sales are performing well & where it needs improvement and bring future opportunities to better position your company for stability and growth. Understanding what customers are buying and what they aren't, you will be able to analyse and identify new areas to increase sales within an existing customer base.
From monitoring habits, trends, to improving sales, reducing losses and theft, actionable insights from analytics has been of immense help for thousands of manufacturing, retail and distribution companies. By assessing trends, understanding allocations, and determining purchase patterns, the companies are able to enhance sales, distribution and manage inventory effectively.
Task Management: Task management may seem simple. But, tracking daily tasks and due dates can be gruesome. Which may seem easy to achieve and simple procedure, often gets left behind when numerous people and teams work fast on different projects. This is where task management analytics comes into the picture. It helps people to stay on course, averts blockages and holds everyone involved in the project liable throughout the project until its complete. Moreover, trailing these data points makes it easier for team to review project while getting understandings at the lessons learned and potential improvements for next project task.
Enhances Efficiency and Productivity: The benefits of business intelligence are no longer under wraps. More and more industries including, energy, insurance, finance, mining, healthcare, retail, etc. are now harnessing BI to drive efficiency and productivity. For example, BI helps to pinpoint challenges in the healthcare system, thus, helping medical administrations to understand where inefficiencies exist and address these concerns by combining a digitally connected referral network. BI also allows healthcare professionals to experience a big boost in their appointment completions, shorter appointment lead-times, reduced scheduling time, and average cost per referral.
Improves Customer Analysis: In today's business world, customers interact in various manner including chatbots, social media, calls, emails, direct interaction and much more. This has led to the rise of number of touchpoints in business interaction and increased the volume of data from multiple sources. BI aims at bringing all these data from multiple sources to get a complete view of the customer. Low data analysis mostly gives understandings into the things happening and the strategies in the business. But, business intelligence takes a step ahead and evaluates the possible reasons of why a strategy failed or worked. This helps in instituting the cause and effect relationship for a meticulous analysis on customer behaviour and preferences.
Tightens Data Accuracy and Compliance: Moreover, helping companies to improve sales, efficiency and productivity, Business Intelligence is used to address the fundamental integrity of data in any project. Keeping the data centralized helps companies to get a 360-degree view of their customers, reduces data inaccuracies and inconsistencies, thus, creating a positive impact on every point of business.
Plus, data protection regulations all over the world are tightening the rules on capture, storage and use of personal data. The new rules consist of requirements to keep the data up-to-date, accurate and demonstrate grounds for data processing and formulating a clear privacy policy for better transparency. Using business intelligence helps companies immensely by capturing the right data, identifying patterns in them for making sound business decisions.
Streamline Operations: One of the remarkable feathers of business intelligence is its ability to minimize the waste, including the administrative and operational work that can be automated using BI system. BI can help in doing the work that data analysts would get lumbered with such as data organization, de-duplication and many other repetitive tasks. This helps individuals to concentrate more of their time to intensive tasks, thus, increasing their productivity. It also saves time, capital, and minimizes the human error.
Plus, it allows users to recognize how well the organization is doing with their current staff so that you can get a clear picture to grow or downsize accordingly.
Integrated BI systems can not only categorize the waste in overall operations of business, but also pinpoint the various pain points, inefficiencies and bottlenecks in various operations of business. Using predictive analysis, BI can also offer suggestions to ease these pain points.
Support decision making: Information doesn't necessarily mean intelligence. It is especially true if 'that' information is stored in different sections of business. The technical pillar to intelligent decision making is a central, single repository that pulls data from all the business activities and from customer interactions. It is then possible for companies to quickly pinpoint performance hotspots, flag up where processes can be matched in other parts of the business or make any necessary adjustments.
A well implemented decision acts as a medium for delivering key business outcomes- improved productivity, staff performance, sales margin, and revenue generation. Any resulting decisions can be made using hard facts rather than assumptions and guesswork.
Better financial management: Analysis of financial data is easier with BI. We all know, financial statements are the tip of the iceberg. Bringing up a perfect financial statements requires lot of hardship of collecting, analysing and organizing data for identifying patterns and trends. BI can simplify this process by blending financial statements with real-time analytics for managing expenditures and improving revenues.
Cash inflow & outflow, balance sheets, and Profit & Loss calculations can be analysed using graphs, dashboards and charts to manage the company's financial health. BI also helps in solving the challenges of managing rebates. What was once considered as a chaotic process, rebates, now you can eliminate painful spreadsheets and enjoy its 360-degree view of returns and allowances. All thanks to business intelligence techniques.
Accelerate Return on investment: Without right insights and sections, it is easy to fall back on old method of doing things based on predefined notions and hypotheses- particularly on customer preferences and behaviour and that is what will bring nightmare for the organization. Using smart technologies, organizations can inform, guide, track, manage and measure customer experience- driving in the notion back to the organizational culture that every team and individual holds responsibility for putting customers at the heart of business.
From managing day to day efficiencies, analysing, modelling and crafting future growth strategies to calculating sales deal conversion and customer satisfaction, business intelligence can help immensely in accelerating the return on investment of an organization. This is why organizations are focused on implementing team specific solutions towards enterprise wide deployments with a clear idea of keeping all the tactical and strategic business activity in aligned with the current objectives.
It is very much true- no organization wants to miss on a new opportunity, but they need to recognize one before it is too late. Careful and right analysis of data can unlock many valuable insights. If you want to unravel the hidden potential that lies in the usage of business intelligence, all you have to do is try it. From big data analytics, predictive analytics to data modelling, and statistical analysis, business intelligence has the power to change the way organizations view data and empower them to stay ahead of the curve!