Jewellery Insurance Company- Transforming a Traditional Business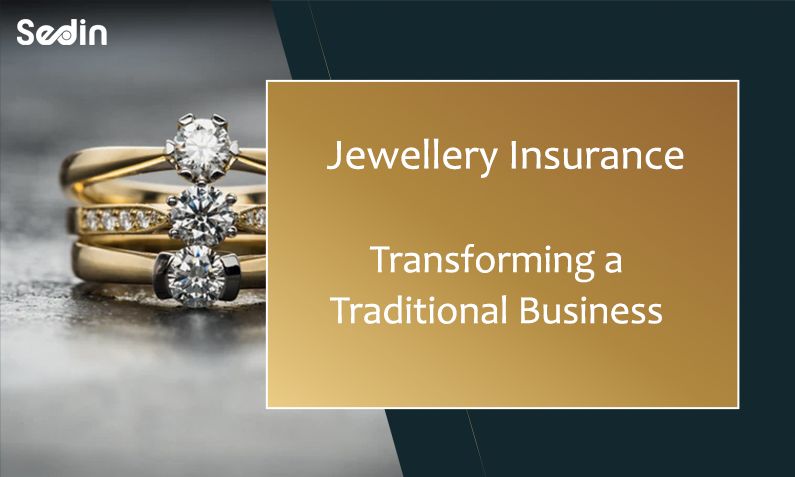 Business Requirement: The client wanted to build a scalable platform for their need of diversifying to different geographical locations with add-on functionalities that would enable them to provide their services to people effectively. Their project required us to fix numerous production issues such as scalability, architectural set-ups and create an efficient framework to regulate the flow of number of customers visiting the online portal for insuring their jewelry, so as to impart its freshness and a pleasant appeal.
Involvement: Sedin has helped the client tech team with architects, dev-ops, front-end and back-end developers to help build the complicated parts of the project and thus, achieve platform and business goals. Our architects and engineers worked with the client team both onsite and offsite to ensure the best collaboration was made as well as sharing the best engineering practices to fix numerous production issues.
The Client: Co-Founded in 2005, our customer is a leading provider of jewellery insurance in Australia with policy period of 12-months, providing coverage for jewellery worldwide against loss, theft and damage. Our customer is underwritten by Chubb Insurance Australia Limited and they are distributed by over 500 of the top jewellery retailers in Australia and hold a significant market share of about 50% in Australia with their technology driven online jewelry insurance portal. With over 14 plus years in the field, our customer serves a huge number of customers by insuring the jewellery worth over hundreds of millions of dollars.
Challenges Faced: After the entire application architecture was changed/revamped to run on Ruby on Rails services, the existing setup in a colocation facility was not scalable to meet the growing demand in the usage of the product. Further, our customer was also in a forecast to expand geographically. This made the requirement even more tough with the existing infrastructure setup in terms of cost, availability and managing vendor.
Our Approach: We suggested putting a few key changes in the platform using Ruby on Rails, as the client wanted a powerful, flexible and secure technology to be used. The users of the website coming from various geographical locations, the web platform demanded security more than anything. Combining the power of RoR, along with agile methodology, the security concerns were addressed and milestones were set for efficient project management.
Solution Offered: AWS is the best option that our customer who wants to scale to the next level could go for was the answer from our side to help migrating the infrastructure. We have recommended and implemented Amazon Elastic Compute Cloud (Amazon EC2) instances for its application, Amazon Simple Storage Service (Amazon S3) to house backups and static files. To monitor all of the resources, we have enabled Amazon CloudWatch, which allows the support team to easily supervise all of its Amazon EC2 assets through the AWS Management Console, Command Line Tools, or a Web services API.
Technologies: Ruby, Ruby on Rails, Amazon Web Services.
Benefits to the Client:
The implementation of ruby on rails code has been working perfectly and the client has excellent visibility into service-specific conversions via Rails. In addition, the client was very pleased that this project enabled them to easily cater to a wider customer base.
Following are the few benefits experienced by the client after implementing our solution:
Smooth operation of insurance activities

User-friendly UI which makes it easier for customers to pay insurance payments

Customers were provided customized packages on the insurance provider's applications

Provided capabilities for quicker insurance choices

Easier customer data management for claims processing

Reduce the processing time and maximize the number of claims processed in a day
About Sedin Technologies:
Sedin Technologies an IT Consulting, System Integrator and Software Services company. Since 2006, we have been delivering business solutions by leveraging domain expertise and cutting-edge technologies for our clients ranging from startups to enterprise.
Our Technology R&D team is constantly working on building innovative products and efficient solutions with an approach to add business value and accelerate the RoI for our clients. With Sedin, clients are assured of a transparent business practice, cost effective solution & high quality services.