IBM Maximo Enterprise Asset Management
Overview
IBM Maximo is the leading Enterprise Asset Management (EAM) solution in the market today. Maximo Asset Management helps organizations to manage end-to-end asset lifecycle to deliver efficient and effective services aligned with their business goals. It provides a comprehensive and modular approach to integrated asset visibility by providing an enterprise platform for all types of assets including production, facilities, transportation, linear and IT assets.
IBM Maximo helps organizations to control & automate the Asset management processes, maintain required service levels, increase Asset Uptime & Reliability, control Costs and improve Quality.
Maximo addresses regulatory and industry-specific needs with ready-made Industry Solutions serving :
Transportation
Manufacturing
Oil & Gas
Life Sciences
Nuclear, Utilites
Service Providers
The high level features of IBM Maximo includes :
Gain visibility and control over critical assets that affect compliance, risk and business performance
Manage Maintenance Processes – Preventive, Condition Based / Corrective and Reactive Maintenance
Track Warranty and Calibration details of the Asset
Manage Inventory and Purchasing processes related to Asset
Integrate with any IT system using the in-built Integration Framework
Integrate with any IT system using the in-built Integration Framework
Our offerings
We offer you the following services in the IBM Maximo Enterprise Asset Management space:
Application Configuration
Java based customizations
Sys Admin
Interface with legacy applications
Production support and Maintenance
SLA based support
24×7 support
Report Developments
Data Loading, integration and migrations
Maximo 7.6 Upgrade
New Implementations & Upgrades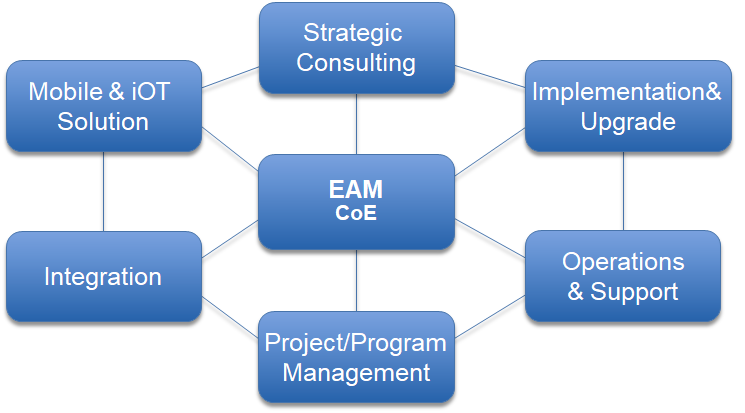 Our top notch Consultants come from various industry verticals and their unique blend of industrial experience mixed with IT expertise will help you talk business processes which get converted to IT processes. We are a young and dynamic team of engineers with average experience level of 11+ years.