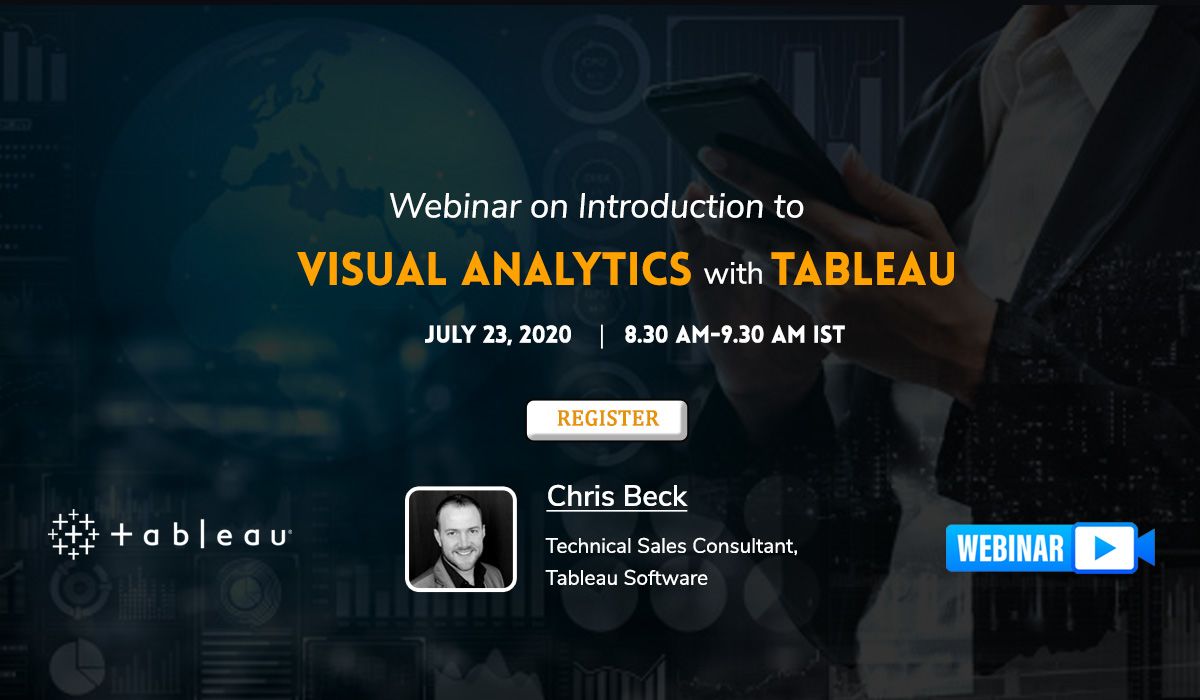 Webinar on Introduction to Visual Analytics with Tableau
517 people viewed this event.
Do you want to explore the scientific developments of what enables people to understand data quickly and effectively?
About Webinar
Look deeper. Discover data-driven insights. Learn more. Act Faster.
With the enormous data discovery requirement, the need of the hour is to mark buying patterns, preferences, market analysis as well as speed needed to make informed business decisions. Tap into the precision of analytics and the power of Business Intelligence tools from Tableau, an interactive, easy-to-use interface for data discovery, reporting and visualization. With the right tools, visual analytics can help you visualize and understand your data in a way no other platform can!
In this live webinar, you will learn what visual analytics really is and how the visual analytics process can encourage deeper analysis of your data.
Why Attend the Webinar?
Join Us For This Webinar And You'll Walk Away Understanding
Explore the scientific underpinnings of what enables people to understand data quickly and effectively
How you can get more value out of your data by analyzing it visually, and have fun doing so
Why it's important for you (and those you work with) to be able to trust your data, access it instantaneously and know it's up-to-date
About Tableau
Tableau is a powerful and one of the fastest growing data visualization platforms used in the BI industry for visually analyzing the data. It helps people to see and understand data. Offering a revolutionary new approach to business intelligence, Tableau allows you to quickly connect, visualize, and share data with a seamless experience from the PC to the iPad.
About Sedin Technologies
Get meaningful insights out from your data to help you make better business decisions
Sedin Technologies offers a suite of business intelligence and analytics services that helps clients get new insights and meet their big data analytics needs, no matter how advanced—or simple. Integrating next-gen technologies, BI tools including data visualization, applied intelligence and leveraging our data analytics capabilities, we ensure to deliver value across your journey by empowering with more agile and intuitive processes.