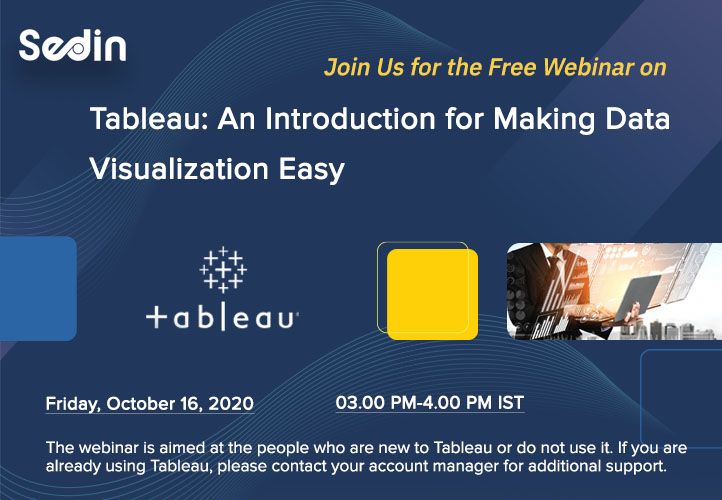 Tableau An Introduction for Making Data Visualization Easy
498 people viewed this event.
Look deeper. Discover data-driven insights. Learn more. Act Faster.
Data is growing at a phenomenal pace. As organizations face increasing challenges to collect huge amounts of data from various sources, it is harder for users to explore and analyze data in seconds. So, how do you bring together the best tool to analyze the data and the best technology to meet your customer requirements?
The answer is Tableau, an interactive, easy-to-use interface for data discovery, reporting, and visualization.
Join us for an interactive session and learn how to apply the most advanced business intelligence platform to achieve your business goals faster than ever. In this webinar we will focus on getting a complete view of your data, various products of Tableau, it's data preparation & analytics capabilities, and how the data visualization process can encourage deeper analysis of your data.
Webinar Outline:
Introduction to Tableau
Overview on Tableau ecosystem
Demo on Tableau
Q&A
If you're ready to enjoy this learning session with us – don't hesitate to book your seat for the webinar.
About Sedin Technologies
Sedin Technologies offers a suite of business intelligence and analytics services that helps clients get new insights and meet their big data analytics needs, no matter how advanced—or simple. Integrating next-gen technologies, BI tools including data visualization, applied intelligence, and leveraging our data analytics capabilities, we ensure to deliver value across your journey by empowering with more agile and intuitive processes.